Rosean Amaral was born and raised in Dartmouth, Massachusetts, in a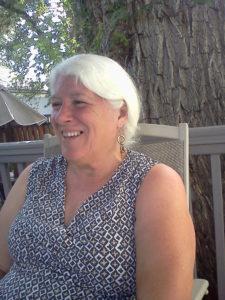 lively,  loving, Portuguese Catholic family.  Her devotion to the Blessed Virgin Mary began when she was seven years old and has guided her spiritual path ever since.
In 1984 she decided to travel west, settling in Wyoming, where she worked as an advocate for women and children, primarily in the Battered Women's Movement, for thirteen years.
In 2011 she was certified as a Spiritual Director after studying with the Center for Spirituality at Work in Denver, Colorado.  On April 29, 2017 she was ordained as a deacon in the Ecumenical Catholic Church.
Her sculpture is a celebration of Mary, mother of God, in her joyful acceptance of her call to bear, nurture and teach Jesus.   Each emphasizes one of the ways in which Christ is revealed to us.  "Mother of the True Light," for instance, depicts Mary protecting and offering to us the Light of the World in the form of a votive candle.  Praying with this sculpture, our own light is joined with the light of Christ.
Rosean lives in Fort Collins, Colorado, with her partner, Laurie and Laurie's sister, Carrie.  Her children and grandchildren are a blessing and delight in her life every day, and she has many good friends.