Contact us at laurie@everydaymysteries.com
Julian of Norwich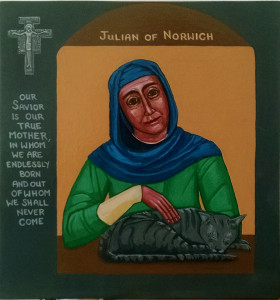 At the window of her anchorage, Julian would offer spiritual direction to all who came to her.  Acrylic gouache on poplar.  11.25″x12″
detail of this icon: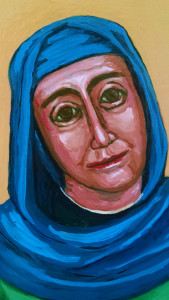 Laurie's prayer while she writes her exquisite icons helps her to rest in God.  This transports her images, making them windows to the realm of heaven, which is that state and consciousness in which we recognize how we are embedded in love with all that is.  Windows do not profess to be perfect, being made of wood and paint, and neither are icons.  But they do frame something beyond themselves, something upon which you can gaze whenever you look through them.
Rabbi Jesus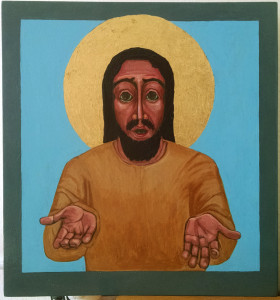 Jesus teaching. Acrylic gouache and gold leaf on poplar   11.25″ x 12″
Christ and the Children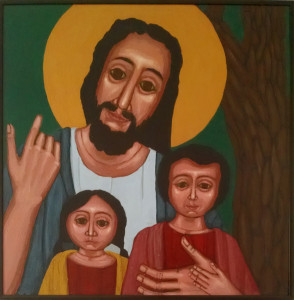 Who can come to Jesus?  The little children.  The children within.  Beginner mind.  The buds of new creativity in service to God.  Acrylic gouache on a pine board, framed.   13″ x 13″
Revelation at Emmaus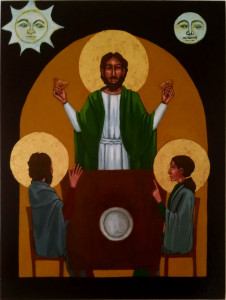 The moment at which the disciples who were traveling with Jesus recognize him.  It is the same moment we celebrate in the breaking of the bread at the Eucharist.  Acrylic gouache and gold leaf on a prepared board.   12" x 15″
Stranger at the Well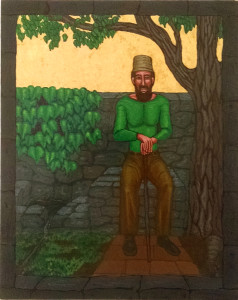 We meet Jesus in the stranger who doesn't look like us and whose ways are foreign.  How do we welcome him?  Acrylic gouache and gold leaf on a prepared board   12″ x 15″
Jacob Wrestling with God: I Will Not Let You Go Unless You Bless Me.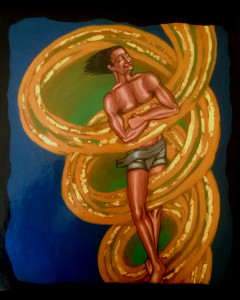 An icon about discernment.  Wrestling with God takes us into the whirlwind where the Holy interfaces with ordinary life.  We have to hang on until clarity comes.  This clarity is a blessing, and it often renames us.  Acrylic gouache and gold leaf on oak.  12″ x 15″
St. Brigid of Kildare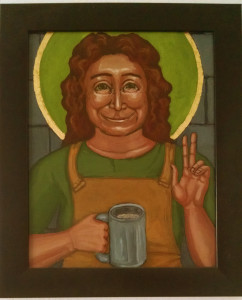 Acrylic gouache and gold leaf on a prepared board, framed.  10″ x 12″
Jesus and Bartimaeus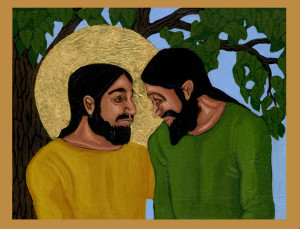 A small icon that shows Jesus' intimate moment with a blind man he heals on the way to Jerusalem.  Acrylic gouache and gold leaf on oak.  5.5″  x 7″
Ruth and Naomi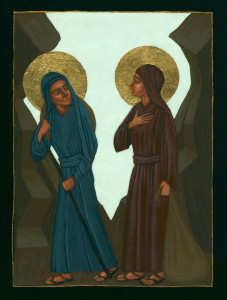 That moment of choice when we opt to follow our hearts, abandoning mores and customs.  It takes courage to pledge and courage to accept the pledge.  What would happen if we said, to all who are strangers, "Wherever you go, I will go."  Acrylic gouache and gold leaf on walnut.  6.25″ x 9″