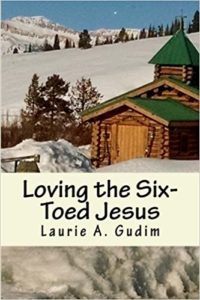 My novel, Loving the Six-toed Jesus, has recently been published and is available on Amazon.  Here is the link.  Take a look at the description and the reviews, and have a peek inside.
It's about a priest in a small parish in the middle of the Wyoming wilderness and the people who love and hate her because of who she is.  This story oozes my love for Wyoming and its people.  The characters, while completely fictional, pretty accurately reflect the various outlooks and values of the folk that populated that vast, wild land during the time I lived there — which was, off and on, from 1951 when I was born in Casper until 2006, when we moved to Fort Collins, Colorado.  As good characters do, they grew real and began dictating the events and outcome of the tale.
I try to portray the beauty and power of the land, with its miles upon miles of empty prairie, deep silences, overpowering mountain peaks, and timbered hills.  Wyoming holds some of my favorite places on earth, and it is also home.